It's no big secret that I am not made of money. But like most people I try to do the best I can with what I have. Last month while getting ready to go the grocery store I started to notice a disturbing trend!! By the third-fourth week of the month I
ran out
of money for food. This wasn't the first time this has happened but I am was determined for it to be my last. So I decided to create a budget! In order to set a budget I had to establish how much money I had available to spend on food. After completing my overall monthly budget using my envelope system I realize I had
$200
for food!
Divided by 4 weeks = $50
I know what you guys are thinking $50 a week for groceries that's impossible! But I have done some research and I think with the right grocery list ideas and some menu planning I think I might be able to pull it off. So far it has been going pretty well but I have been having trouble coming up with nutritious meal ideas for a bargain.
That's where you guys come come in!!! I thought we would have a little contest

!
To Enter please become a subscriber to my email newsletter
Then...... Tell Us!
- If you had to eat on $200 a month what would you get? (Realistic grocery ideas)
-What meals would you prepare? (Show us pictures,share your family recipes)
- How would you create weekly grocery list?
The most creative recipe and grocery budgeting advice wins!!!!
What do you win?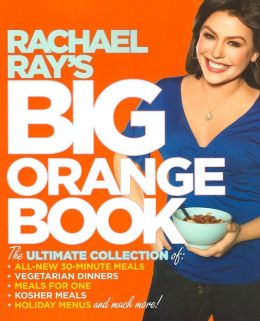 In the 10 years since she served up her first 30-minute meal—and thousands of delectable dinners later— Rachael Ray has learned just about all there is to know about getting a great tasting meal on the table in a hurry, whether it is one of her patented 30-minute miracles or something just a tad more involved for a special gathering. Rachael's
Big Orange Book
is the ultimate resource for busy cooks